Tomorrow night, we will have AEW Double or Nothing 2020. It's an intriguing show with a lot of potentially interesting match-ups. There are a few matches where in...

Double or Nothing takes place on Saturday. I'll have betting tips up tomorrow. Just want to peruse the Observer first. However if you can't wait you can get...

AEW Double or Nothing 2020 takes place this Saturday night. It's a pretty stacked card and I know I am looking forward to it. I will be providing...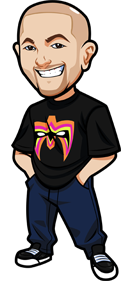 Welcome to BetWWE.com. My name is Graeme and I'm just a 36 year old guy who bets sports professionally, and have been providing betting tips for the WWE on various websites since Wrestlemania 26.

I first did it just for fun – but we soon realized that there's actual money to be made from it! As more sportsbooks jumped on the bandwagon, I started ramp up the seriousness of it which has led to this website.

This is a fan-made website, not affiliated with the WWE in any way.

You should probably also only bet on WWE for fun. It's a whole different ball game from other things you can bet on and requires a whole bunch of different analysis. Sometimes it truly is a coinflip.

If you need to contact me for anything, the best way is e-mail. My e-mail address is Graeme@BetWWE.com.

Here are some quick answers to common questions:
Yes. Yes you can. While the results are pre-determined that doesn't mean they are always the most obvious results. Trust me on that. There are always matches that could go either way, or matches where a DQ or countout finish happens etc. Think of it as similar to betting on soccer or hockey. While there are often big favourites the upsets happen to the point that it's quite normal.


If you're looking to bet on WWE there's actually a lot of options.


I've got this geo-targeted table which lists the best sportsbooks to bet WWE, where to bet on WWE and how to bet on WWE at each sportsbook.


All of the below sportsbooks accept people from United States. Note many won't have odds up until 3-4 days before each PPV.