WWE Elimination Chamber 2015 Early Betting Odds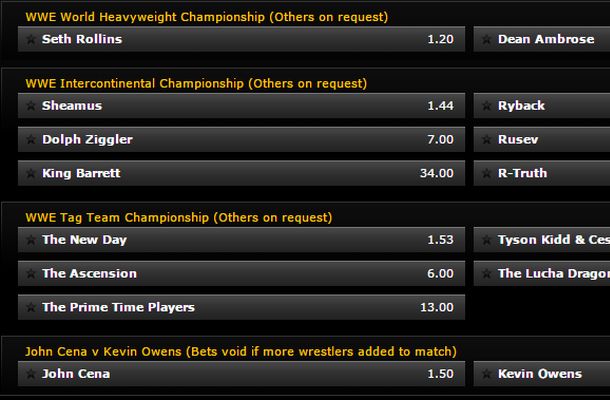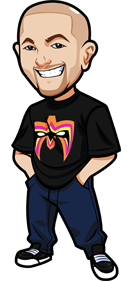 Written By Graeme on May 21, 2015
The early betting odds for WWE Elimination Chamber 2015 have been released. Currently, only bWin sportsbook have listed the odds. We probably won't see them at the other sportsbooks until next week after RAW.
Let's check out the current odds and analyze them:
World Title: Seth Rollins (1.20) vs Dean Ambrose (4.00)
John Cena (1.50 vs Kevin Owens (2.50)
Intercontinental Title: Sheamus (1.44) vs Ryback (4.50) vs Dolph Ziggler (7.00) vs Rusev (13.00) vs Wade Barrett (34.00) vs R-Truth (41.00)
Tag Team Titles: The New Day (1.53) vs Kidd/Cesaro (4.50) vs The Ascension (6.00) vs The Lucha Dragons (11.00) vs The Prime Time Players (13.00).
Those are decimal odds. For example for Rollins, bet $1 at 1.20 to profit $0.20. For Ambrose, bet $1 at 4.00 to profit $3.
Elimination Chamber 2015 Early Analysis:
As much as I'd love to see Dean Ambrose winning the World Title – Rollins needs it to continue to play the chickenshit heel. However stranger things have happened. Ambrose has been amazing in the few weeks that he has been in the main event picture, and we've seen surprises before. It would also freshen up the storyline somewhat. I honestly can't see it though. The money will be in the chase with Ambrose. We'll just have to see if there are any stipulations added to that match before deciding.
The Intercontinental Championship is a very interesting man. I don't think Rybacks feud with Bray Wyatt is over, so I'd count him out. I could see Sheamus taking it but those odds are too high. I'll be paying attention to the storylines involving Dolph Ziggler and Rusev over the next little while. If WWE have faith in Rusev, and that's a big IF with Lana now gone – Rusev could be a strong contender to go over here. However he also has that feud with Ziggler lined up and that's probably why their odds are so high.
In the Tag Team Championship match, that will be an interesting one. After a hot start, the Lucha Dragons have sort of disappeared lately. Would be freaking awesome to see the WWE push heavily on them with a win. But we'll have to wait and see what the next few episodes of TV bring us. Those odds seem fairly solid at the moment based on everything that has happened on TV so far.
Finally we've for Kevin Owens who I'd suggest is worth a small bet at this time. I personally feel this is a 50/50 match. There's plenty of reasons for Owens to lose – such as interference by Zayn or Samoa Joe, or CENAWINSLOL. However HHH is protecting Owens big time and that bodes well for his future. A win over John Cena here, even if it involves a hell of a lot of cheating – could be great.
Note that you can find the current WWE odds at Bwin Under "Entertainment" then "WWE".
We'll keep you updated and have the betting tips up for Elimination Chamber 2015 a few nights before the actual PPV. It's going to be an interesting one, and we're hoping for at least one big upset.
Where To Bet WWE:
These sportsbooks accept Americans.
Note many won't have odds up until 3-4 days before each PPV.
| Rank: | Sportsbook: | How: | Bonus: |
| --- | --- | --- | --- |
| 1 | 5Dimes | "Wrestling" category under "Other Sports". | Best odds, up to $520 free. |
| 2 | Bovada | Click "All Sports" in sidebar then "Wrestling". | $250 Free. |
| | | | |
We recommend
5Dimes
the most due to better odds, and they cover all WWE events. (Bovada usually only have Mania, Rumble although you can click and see)