WWE Payback 2015 Betting Odds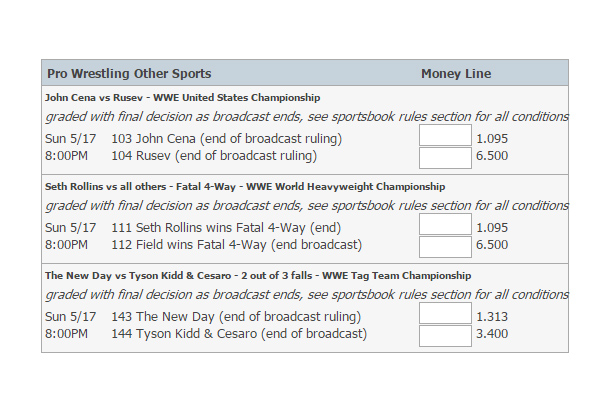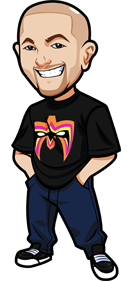 Written By Graeme on May 14, 2015
We're a few days out from WWE Payback 2015, and bar any late changes we have ourselves a full card.
We've got 1 scheduled pre show match for WWE Payback 2015 and then 6 matches to be in the main card. 3 titles will be defended; the US Title, WWE World Heavyweight Championship, and the Tag Team Titles.
Right now, here is the scheduled card:
Pre-Show: Axel/Sandow vs Ascension
Ryback vs Bray Wyatt
New Day vs Kidd/Cesaro (2 out of 3 falls – tag team titles)
Wade Barrett vs Neville
John Cena vs Rusev ("I Quit" – US Title match)
Seth Rollins vs Roman Reigns vs Randy Orton vs Dean Ambrose (Fatal 4-Way, WWE World Title)
It's Thursday May 14th as of this writing, and here are the current listed odds:
Payback Odds from 5Dimes:
John Cena 1.095 vs Rusev 6.5
Seth Rollins 1.095 vs Field 6.5
The New Day 1.313 vs Kidd/Cesaro 3.4
Currently, they only list the 3 although will most likely list more closer to the time. You can check the latest odds at any time by visiting http://www.5Dimes.com. You'll need to log in and then look under wrestling.
We've got a little bit more at Paddy Power. Let's go check them out:
Payback Odds from Paddy Power:
Seth Rollins 1/4 vs Dean Ambrose 10/1 vs Roman Reigns 11/2 vs Randy Orton 7/1
John Cena 1/6 vs Rusev 7/2
The New Day 2/7 vs Tyson Kidd/Cesaro 9/4
Ryback 9/4 vs Bray Wyatt 2/7
Sheamus 2/5 vs Dolph Ziggler 7/4
Wade Barrett 4/9 vs Neville 13/8
So the only odds missing at this stage, are the odds for Axel/Sandow vs Ascension.
So far it's not looking like much value for the betting odds interestingly. You can see the latest odds by visiting http://www.5Dimes.com.
Although 5Dimes have not yet released their odds, we expect them to be very similar to the Paddy Power ones. Maybe some slightly better value on the bottom three matches there. But it's an interesting sign that the bookies actually have really solid odds.
It's possible a divas match will be added to Payback although we haven't heard anything yet. So until we hear anything else, that will be the finalized card for WWE Payback 2015.
We'll have full analysis and betting tips in a couple of days. Probably Saturday. We're not seeing any underdog bets though – we'll explain it in detail as we do the tips and analysis, but it looks like the best bets are going to be Sheamus and Wade Barrett and sadly, there aren't great odds on them. Ryback is a slight possibility.
Back on Saturday with our WWE Payback 2015 Betting Tips.
Where To Bet WWE:
These sportsbooks accept Americans.
Note many won't have odds up until 3-4 days before each PPV.
| Rank: | Sportsbook: | How: | Bonus: |
| --- | --- | --- | --- |
| 1 | 5Dimes | "Wrestling" category under "Other Sports". | Best odds, up to $520 free. |
| 2 | Bovada | Click "All Sports" in sidebar then "Wrestling". | $250 Free. |
| | | | |
We recommend
5Dimes
the most due to better odds, and they cover all WWE events. (Bovada usually only have Mania, Rumble although you can click and see)