WWE Extreme Rules 2017 Betting Tips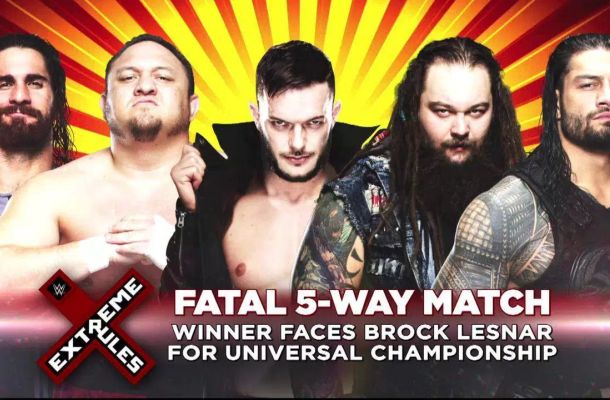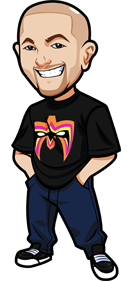 Written By Graeme on June 1, 2017
WWE Extreme Rules 2017 takes place this Sunday, June 4th 2017.
Extreme Rules is headlined by the Fatal 5-Way match featuring Roman Reigns vs Seth Rollins vs Bray Wyatt vs Samoa Joe vs Finn Balor.
This match came about after the injury to Braun Strowman. The winner of the match will face Brock Lesnar at WWE Great Balls of Fire for the WWE Universal Championship.
Strowman is expected to be back for Summerslam to fight with Lesnar so the winner of this match is basically set up to lose at Great Balls of Fire.
There are currently just a few other matches on the card. Dean Ambrose defends the Intercontinental Championship against The Miz, while Bayley challenges for the WWE RAW Womens Championship against Alexa Bliss. Man after that segment on RAW, I think I'd rather sit down and read a Patricia Cornwell novel as opposed to watching that.
We've got tag team action as Cesaro and Sheamus take on the Hardy Boyz in a Steel Cage match for the titles and Neville defends the Cruiserweight Championship against Austin Aries.
Finally we have Noam Dar and Alicia Fox teaming up against Rich Swann and Sasha Banks.
Where To Bet WWE Extreme Rules 2017:
These sportsbooks accept Americans. Note many won't have odds up until 3-4 days before each PPV.
| Rank: | Sportsbook: | How: | Bonus: |
| --- | --- | --- | --- |
| 1 | 5Dimes | "Wrestling" category under "Other Sports". | Best odds, up to $520 free. |
| 2 | Bovada | Click "All Sports" in sidebar then "Wrestling". | $250 Free. |
| | | | |
We recommend 5Dimes the most due to better odds, and they cover all WWE events. (Bovada usually only have Mania, Rumble although you can click and see)
WWE Extreme Rules 2017 Betting Odds:
Neville (-225, 4/9) vs Austin Aries (+140, 7/5)
The Miz (-175, 4/7) vs Dean Ambrose (+125, 5/4)
The Hardyz (-200) vs Cesaro/Sheamus (+140, 11/8)
Alexa Bliss (-160, 8/13) vs Bayley (+120, 6/5)
Seth Rollins (+190) vs Samoa Joe (+300, 3/1) vs Finn Balor (+300, 3/1) vs Bray Wyatt (+350, 7/2) vs Roman Reigns (+600, 6/1)
WWE Extreme Rules 2017 Betting Tips & Analysis:
Note that these tips are based on the odds above which were taken from http://www.5Dimes.com on June 1st at 11:30am EST. You can post in the comments below for advice on the bets if the odds have changed.
Fatal 5 Way: I think the only thing we can say with almost certainty is that Roman Reigns won't be winning. It just doesn't make any sense at all. Not that WWE always has to make sense of course – but sometimes we have to ignore that and go with the assumption that they'll be doing what makes sense.
The plans indicate that the winner of this match is basically just a small roleplayer to get them to Summerslam. This person wins, taunts Brock for the next couple of weeks then gets destroyed at Great Balls of Fire. Due to their future plans that shouldn't be Reigns as the word is they're keeping him from the title picture.
Rollins is favourite but I feel WWE have given him momentum and they don't want to kill that. From what I saw on RAW it looks like Joe vs Balor going forward. If we eliminate them we are left with Rollins and Wyatt.
Honestly I'm fine with rolling the dice on Bray Wyatt. I think his price is quite nice and if you're looking for cannon fodder, Bray is always there for you. I'd go with a quarter unit on that as I think long term Rollins would make sense – however with everything being status quo until the Summer I could see them just chucking Wyatt in with the win. Especially after that terrific Reigns/Rollins match on RAW – I could see them going that route. The crowd were so into it.
The Miz vs Dean Ambrose: This is a tricky one as usually I like to bet on the Miz. They've pushed the title changes hands on DQ rule so much you'd think that WON'T happen. However it does seem the Drifter may interfere. I think there's enough of a chance of that – and him attacking the Miz to really screw over Dean – that it's worth a bet.
The Hardyz vs Cesaro/Sheamus: Really just seems like the status quo is for the Hardys to remain champions. It's possible they'll do the title switch to keep things fresh but the odds aren't there at +140. If they go over +250 I'd advise a bet.
Alexa Bliss vs Bayley: It's the womens division so of course they can change things up on a whim. However management do seem to be high on Bliss and she's been pretty great when left to her own material. Bayley is just a booking disaster at the moment and I'll take Bliss to retain.
WWE Extreme Rules 2017 Betting Picks:
Alexa Bliss to win
1/4 unit on Bray Wyatt to win
1/2 unit on The Miz to win
Where To Bet WWE:
These sportsbooks accept Americans.
Note many won't have odds up until 3-4 days before each PPV.
| Rank: | Sportsbook: | How: | Bonus: |
| --- | --- | --- | --- |
| 1 | 5Dimes | "Wrestling" category under "Other Sports". | Best odds, up to $520 free. |
| 2 | Bovada | Click "All Sports" in sidebar then "Wrestling". | $250 Free. |
| | | | |
We recommend
5Dimes
the most due to better odds, and they cover all WWE events. (Bovada usually only have Mania, Rumble although you can click and see)